On 22.07.2023 Angla Windmill Park invites all islanders and guests of Saaremaa to ANGLA HERITAGE DAY!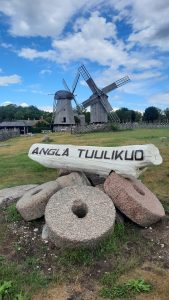 If you don't have your own car, come with us!
Start is next to Kuressaare Kuursaal in the castle park and later back to town at the following times:
11.30-13.30 (back in Kuressaare 14.00)
13.00-15.00 (back in Kuressaare 15.30)
14.30-16.30 (back in Kuressaare 17.00)
The price is 20€ and includes transport both ways and entrance to park and Heritage Day.
Book a seat to minibus (up to 8 seats) HERE (see 22.06 on booking calendar)
***
This year it will be even more special - folk musicians and danceers from Karja parish and other parishes are take part.
There will also be Tõrva musicians, our own great folk culture collectives Sõlus and Muigud and the female ensemble Kanarbik.
BUT WHAT ELSE IS SPECIAL - THE ANGLA WINDMILL PARK FAIR IS OPEN!
Our own craftsmen and producers of local food will be present and in addition to selling they are also willing to introduce their tricks and skills to those interested in the craft workshop.
In addition, many exciting workshops - weaving, felting, engraving, etc. workshops, nice island-style drinks and meals, i.e. just an incredibly nice day to spend with family and friends.
There is also a surprise performer!
All this is led and directed by our own islander Tõnis Kipper.
Check on Angla Facebook page!